GET STARTED IN 2 MINUTES
Electronic signatures made esay
Resly delivers a modern digital signing service. Stripped and powerful for the best possible digital signing experience. Sign documents securely and bindingly with us.
Free plan without restrictions
All features on all plans
Unlimited number of users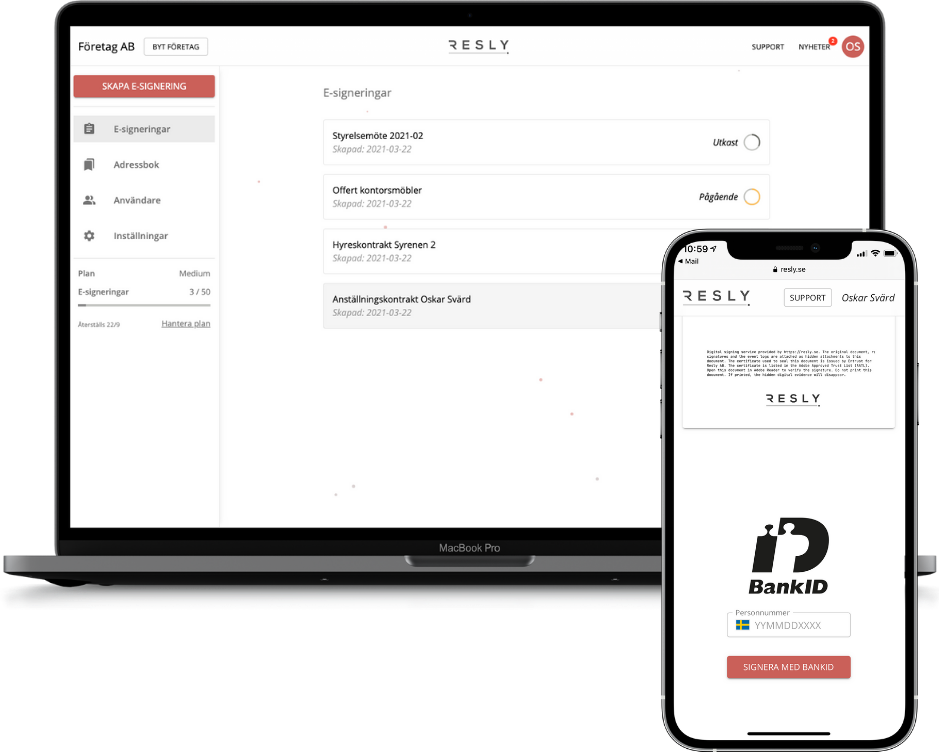 DIGITALIZATION
Sign the company's PDF document
Do you have customers and employees and want to sign contracts more professionally? Sign the documents with us. Resly's tool is perfect for your digitization journey.
E-LEGITIMATION
Legally binding signatures
In order to comply with the European Union's eIDAS regulation regarding electronic signatures, we give you the option to sign with Swedish BankID or Freja eID at no extra cost. We provide advanced electronic signatures.
THE FOCUS AREAS
Our visions in practice
Ease of use
Tools that are not easy to use are not used. That is why it is precisely one of our focus areas.
Do not pay per user
We do not believe in the user-based licensing model. Enter as many users as you want.
All features on all plans
In order for you to grow, we offer all functions regardless of price plan. It is important to us.
Cloud based
Our robust cloud scales with our customers. Resly wants to contribute with security and high availability.
PRICING
See our unbeatable prices
We want to be the market's most cost-effective e-signature service. One shipment per month is completely free without a subscription. Are your needs growing? Check our prices, you will be happy. 😍
AREAS OF USE
What can be digitally signed?
All kinds of documents and agreements can be signed digitally, but here are some examples of types of documents that our customers sign.
New employee on the way? Test electronic signing of employment contracts.
Rental of homes, machines, vehicles or other objects.
Do you have customer agreements that need to be signed before the deal closes?
Do you collaborate with companies or private individuals? Sign the agreements digitally.
Do you need a power of attorney before you can close a deal?
Send out a digital signature request to the board for increased efficiency.
Does your business require a GDPR agreement?
Confidentiality Agreement
Sign NDA documents easily and legally binding.
Your company's new e-signature tool